Gloucestershire Wheels for All
Our Gloucestershire Wheels for All project runs inclusive cycling sessions for disabled and non-disabled people alike to get together and enjoy the benefits of getting on a bike.
The sessions take place at our off-road locations the Blackbridge Athletics Track in Gloucester.
We have a wide range of three- and four-wheeled bikes including wheelchair transporters, recumbent trikes, companion bikes and hand cycles.
The adapted bikes mean that anybody aged five to 95 can take part – whether they have a sensory, physical or learning disability. The sessions are also great for those with mental health conditions, including dementia, as well as anyone who needs to gain confidence, lose weight or start an exercise programme.
Cycling allows us to exercise together as a family. It has been essential support to the family's mental wellbeing.
Want to get involved?
You can find out more information about the cycling sessions or how to get involved as a volunteer by contacting our Wheels for All team.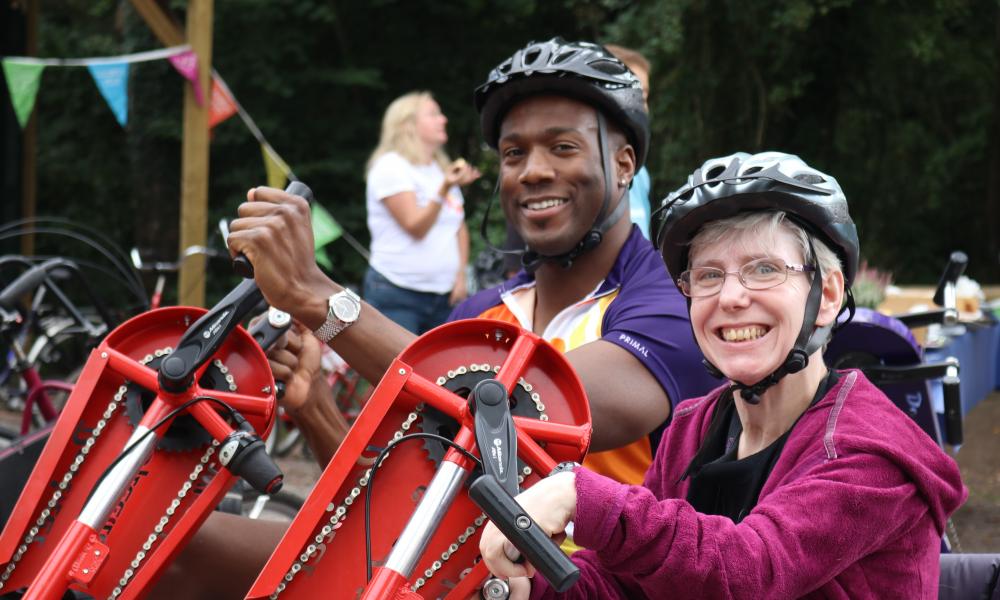 Everyone can join in the fun
'I find the exercise for my legs very good. I also enjoy going out into the Forest of Dean. It makes me feel happier and I get more out of life.'— Sue Willis, who uses our services at Gloucestershire House
Projects like this are vital. Disabled people are only half as likely as non-disabled people to participate in physical or sporting activity once a week, and around seven in 10 disabled people do not take part in any activity at all.
At Gloucestershire Wheels for All, everyone can join in the fun.