Physiotherapy in Cheltenham
Our therapy suite at Gloucestershire House is kitted out to provide you with the care and support you need so that you can become more independent in all areas of daily living.
What is physiotherapy?
Physiotherapists use movement and exercise, manual therapy, education and advice to support people who have been affected by injury, illness or disability.
They maintain health for people of all ages, helping you to manage pain and prevent disease.
The profession helps to encourage development and facilitate recovery, enabling you to stay in work while helping you remain independent for as long as possible.
What is occupational therapy?
Think about your day-to-day life — would you be able to cope or live fully if you didn't have access to the internet? Or couldn't get out of bed in the morning?
Occupational therapy aims to improve your ability to do everyday tasks. It provides practical support to empower you to facilitate recovery and overcome barriers preventing you from doing the activities that matter to you.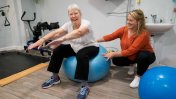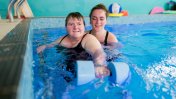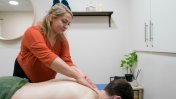 How we can support you
Our trained physiotherapists can support you with:
Improving your mobility through land and water based interventions,
Devising a home exercise programme,
Developing your skills to support you to live more independently,
Recommending the latest in accessible equipment,
We can also provide support and advice to carers — for example on manual handling.
What services can I use?
Hydrotherapy pool
Therapy gym
Private treatment room
Sensory room
Skills kitchen
Fully accessible equipment
Overhead hoists
Accessible toilets
Who can use our therapy suite
It is a self-funded service for adults with physical disabilities. We offer 1:1 assessments and follow up appointments.
Where to find us
Gloucestershire House
Charlton Lane
Leckhampton, Cheltenham
Gloucestershire
GL53 9HD