Making the Invisible Visible
Jessica Logan

---
Jessica is the founder of Making the Invisible Visible. She tells us about what inspired her to set up her campaign and why she's working to raise awareness and help others accept changes in their lives or to their bodies.

*This blog contains some discussion around suicidal thoughts which readers may find triggering.
My name is Jessica Logan, and I'm 30 years old, a pageant girl, married and live with our two fur babies, Alfie and Roofus.

I am also the founder of Making The Invisible Visible, an awareness campaign that aims to open up conversations about invisible illnesses and disabilities and empower those who live with them.
My personal journey
In 2017 a sudden diagnosis of Inflammatory Bowel Disease (IBD) nearly took my life. I was completely shocked at the time and needed emergency stoma surgery. It meant I hadn't had time to process my diagnosis. Honestly, I felt disgusting in myself. I also felt suicidal for the first six months afterwards. I really struggled with the fact that there was no representation of stomas in the media or within fashion brands.
And the journey to acceptance wasn't made easy by others. I kept facing discrimination in public when using disabled toilets because 'I didn't look disabled.' Discrimination can happen way too often when using disabled parking or accessible toilets. It can even make people afraid to go out in public. If people don't see a walking aid or a wheelchair, they can assume we're taking advantage. It made me realise there was a lack of visual education on hidden conditions. And that's where I got the idea for Making The Invisible Visible.
Why representation matters
I started by designing a visual image to help represent hidden disabilities. I wanted to help end the discrimination we regularly receive because 'we don't look sick.' I really wanted the image to confront this judgment by educating people and helping others to understand it better by visualising it.
Support and awareness can help us feel like the true warriors we are, valued by society instead of a burden or a failure.
So I created posters and merchandise to help spread the message. The merchandise includes a representation of all bodies and promotes body positivity. This includes personalised body sculptures portraying things like feeding tubes and stoma bags.
I wanted to use this cause for the greater good and help others like myself. Not just through awareness but by helping them feel empowered with other projects too, while also raising money for charities.
Some projects I run include interviews, empowerment photoshoots and The Warrior Charity Pageant. And we have more in the pipeline!
The Warrior Charity Pageant
The Warrior Charity Pageant was created to empower anyone living with an invisible illness or disability. And crucially, to provide a community that understands one another. It's a yearly event where we fundraise for our chosen charities.
But I'd have to say my empowerment photoshoots have to be the most rewarding project to date. I ran nine of these in 2022, and the whole atmosphere on the day is truly out of this world. The photoshoots are run across the UK with a professional photographer; each person writes positive words about themselves on their bodies and has photos taken by a professional photographer. These words have been decided by the group or by going out into a public area. Living with our challenges can stop us from seeing the good in ourselves, and this is what the shoot is designed to provide a focus on.
Each person can push themselves out of their comfort zone and showcase that they are worthy and will never be defined by their illness / disability. And it helps spread vital awareness of invisible illnesses and disabilities. I see people grow the moment they walk in and see the positive change in them after they receive their photos.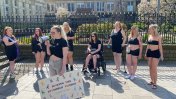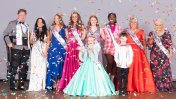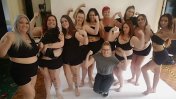 Spreading the message
I want others outside our community and our loved ones to understand our restrictions and personal struggles more. It's also important to know that each person's journey is different. Comparisons cannot be made to others living with the same conditions.
I love it when people are open to learning about an illness or disability and asking how they can further support you. But unfortunately, our society can be too afraid to ask questions because we feel we will get judged. But I wouldn't get offended if you openly say you want to learn more. This makes us feel valued and heard.
It means so much when people make an effort to understand you, even if they can't see your struggles. Often they see your good days but not the bad. And if you post openly about your bad days, some people see it as attention seeking. That's why breaking down those barriers is essential because some people cannot empathise with something unless they've experienced it themselves – or if they can physically see it.
We need so much more awareness about invisible conditions and disabilities. Because support and awareness can help us feel like the true warriors we are, valued by society instead of a burden or a failure.
I'm proud to be the Mrs Diamond UK Ambassador 2022-23. I am honoured to head to Las Vegas to compete internationally to represent the disabled community this year!